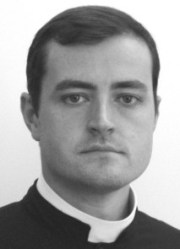 Dear parishioners of St. Michael's
I would like to add my own thanks to Fr. Jose Zepeda to those offered by Fr. Saguto, our District Superior, last weekend. Fr. Zepeda served the parish of St. Michael's faithfully for six years and has been a good friend and loyal member of our Priestly Fraternity. In his final years at the parish Fr. Zepeda undertook many of the necessary improvements to the parish infrastructure and leaves St. Michael's in a high degree of readiness. For this and his caring pastoral approach he is to be particularly commended and thanked. It was a pleasure and a privilege to serve with him in the parish upon my return to Scranton and I am sure I speak for us all when I wish him well in his new assignment and assure him of our prayers.
There remains however a slight sense of anticipation regarding what happens next for the parish of St. Michaels. As was announced last weekend Fr. Saguto has chosen to nominate me as your new pastor.  It is with great joy and sense of profound gratitude that I have accepted. It will therefore remain my privilege and my pleasure to serve you.
As you may know this appointment as pastor does not however relieve me completely from my duties as District Bursar. I must therefore  beg your indulgence during the first few months while I endeavor to strike the correct balance between these two important functions.
It is not my immediate intension to make sweeping changes to the legacy left to us by Fr. Zepeda. Therefore please do not expect rapid and comprehensive alterations to parish life. There are however a number of slight changes which will be made immediately and which I ask you note well.
The number for Sacramental Emergencies is now: (570) 591 1779
Parish Office Hours are now:
Monday 9am – 3pm
Friday 9am – 3pm
Saturday 10am – noon
As always these changes will appear in the Sunday Bulletin but I thank you in anticipation for your co-operation in promulgating these minor changes to those unable or unlikely to read this message. I look forward to this opportunity to serve you and ask for your prayers for the parish.
Yours in Christ
Fr. Simon Harkins F.S.S.P. Pastor, St. Michael's Parish, Scranton