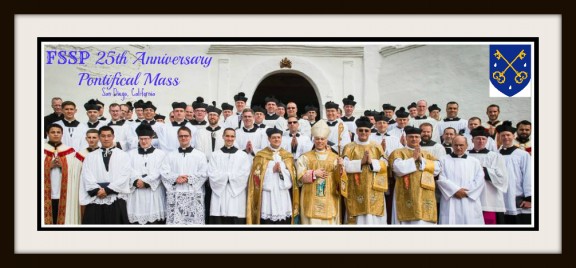 [Exerpt from http://www.fssp.org/en/presentation.htm]
The Priestly Fraternity of St. Peter is a Clerical Society of Apostolic Life of Pontifical right, that is, a community of Roman Catholic priests who do not take religious vows, but who work together for a common mission in the world.  The mission of the Fraternity is two-fold:  first, the formation and sanctification of priests in the cadre of the traditional liturgy of the Roman rite, and secondly, the pastoral deployment of the priests in the service of the Church.
The Fraternity was founded on July 18, 1988 at the Abbey of Hauterive (Switzerland) by a dozen priests and a score of seminarians.  Shortly after the Fraternity's foundation and following upon a request by Cardinal Ratzinger, Bishop Joseph Stimpfle of Augsburg, Germany granted the Fraternity a home in Wigratzbad, a Marian shrine in Bavaria that now lodges the Fraternity's European seminary. In the same month of October there arrived a handful of priests and some thirty seminarians ready to start "from scratch".  There are currently almost 200 priests and 110 seminarians in the Fraternity.